Double Viking Flip
. That was what got Takeshi
another
Gold Medal (meaning he now has 2 (excluding the ones he won from the mobile skate tours and Global X and Asian X) at the X-Games X just last Saturday (August 7 '04) at Los Angeles, California, just 1 short from his older brother). The
Double Viking Flip
. Damn. I never even thought of it as a possible trick, which is weird, considering they usually double all their tricks to make things more difficult (and to get higher scores)--double flat spin, double back flip (of course, Eito has the double back flip
180
to add even more leverage), so
why not
a
double viking flip
, right? But then,
I
wasn't the only one surprised.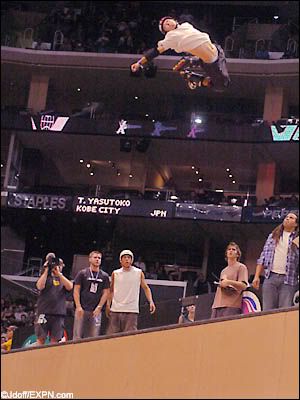 Takeshi did a few more tricks--
Single
Viking Flip, 15 ft. (
15 ft.!!
) airs, Corkscrew 900, and some grinds I'll never completely remember the names of, but I'm pretty sure it was mostly the Double Viking Flip that got everyone out of their seats. It
was
the first time it was performed in public ("And what bigger, better way to do it than at the X-Games?" says Mark Shays in the X-Games 2002 when Takeshi got his first X-Games Gold), and although admittedly, Eito's
1080 Califonia Roll
is still pretty more difficult and unique, it's gotten pretty old (having been performed in all of Eito's runs since 2003). So I guess my brother was right when he said that it (the whole X Games thing) was getting a bit boring as it's almost always the one with the new trick who wins, despite the other athletes having more technical/difficult stunts. But I think Takeshi really deserves this one, since, aside from the fact that I am of course, biased, his run was really balanced--I mean, it had huge airs, very technical grinds, a couple old tricks, and a new trick. In a word, it was
perfect
. What else could the judges/audience ask for?
I know
I'm
not asking
for
anything else, although I do still have a couple more questions like, how come Eito's only in third place? And why is the other ESPN commentator no longer Arlo Eisenberg? Or, why in the world did they take out the Inline Park category? Also, where, oh where, did Fabiola get those cute pink skates? And, did anyone else know that the reason for Taig Khris' absence in last year's season was because he got injured in a
car
accident, and
not
a skating one, as is usual with athletes like him?
Anyway, I think whatever I say here will never be as accurate (nor as interesting) as the people from ESPN, so here's the link to the article about Takeshi's win:
Takeshi is Tops
- contains more pictures, more info on other skaters, more technical terms, and even vidoes.
I recommend highly that you watch the videos, as they won't be showing them on ESPN in the Philippines for at least several weeks, plus, you'll get a glimpse of Eito's girlfriend--she's the one sitting next to the Yasutoko's Dad, Yuki (she's Japanese too--which was kind of disappointing for me because I always thought Eito's gf would be American, but, oh, well, his life, his decision, and they look happy anyway--I dunno her name, though).
In case you're interested, their final scores (these are all over 100) were
95.75
for Takeshi (not as good as his 98.25 in the Asian X-Games, but this was good enough for the win anyway),
92.75
for Marco DeSanti (who got silver, by the way) and
92.50
(only .25 pts. behind!) for Eito.
Aside from that, I'd also just like to mention that I'm really really
really
happy. Really. When I first read about Takeshi's win, I couldn't wipe the smile off my face for, at least the next 7 minutes, which is actually kind of normal for me everytime I receive good news about Takeshi, but when I think about it during normal circumstances I realize it's really kinda creepy. Oh, well...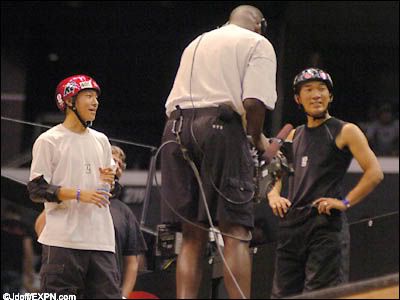 I can't wait for ESPN to show the darn competition already... The videos in their website's just the runs after all, and I kind of really want to see the interview (which they surely conducted as Takeshi's won the gold medal and he speaks better English this year) for reasons I'm sure I've mentioned in my past entries.
Congratulations
to Takeshi and Eito! Sure, everyone predicted they were going to win anyway, but did anyone else think of the Double Viking Flip? I'm glad
I
didn't. That was such a wonderful surprise...