Yes, I am very aware that the Komikon was over a week ago, and there are already a gazillion blog entries about it, but it's better late than never, and there's no harm in having my say. I actually already wrote something about it, but after a few days, I think my opinion changed, so I'm posting this (and this isn't what I originally wrote) only now.

Anyway, I doubt any of you remember, but I actually attended the very first Komikon in the Philippines, last October 21, 2005. It was only 2 years ago so I remember it quite well. At the time, my friends were still selling Blitzworx, which is now, er, defunct (for lack of a better term). But my friends were still there this year, still selling comics, as I think all comic enthusiasts will be doing 'til the end of time.

The thing I like most about the Komikon, and I think this is also what differentiates it from most of the other related events (meaning anime and gaming conventions) is how most of its attendees (if not all) are genuine people. What I mean is, they're people who are genuinely interested in art, and aren't just there because they're bored (okay, maybe some of them are just there because they're bored, but most aren't like that, at least, from what I've observed), or because they're trying to be cool (although admittedly, hanging out with comic geeks and anime otakus isn't always considered cool).

Okay, there's a possibility I'll be getting hate comments for this and at the end of the entry you might want to tell me that I'm over-generalizing, but after ranting, I'd really appreciate it if you could tell me something that would prove me wrong. And here's an early disclaimer: I'm only talking about my observations, and being human naturally prevents me to be able to see everything and know everything and therefore I, of course, can't tell you the truth without it being tainted by my opinion one way or another.

(Yeah, I'm a scaredy cat who cries whenever she gets hate comments. So?)

So here are the reasons why I think the Komikon is the coolest art/anime/gaming (although mostly art) event in the year (as compared to the HeroCon, Ozine Fest, etc. etc.):

1) There's no Cosplay - Don't get me wrong, I love cosplay. It's fun, the cosplayers are brilliant, and it's very difficult to pull off in any venue (not just the UP Bahay ng Alumni), which makes the participants all the more impressive. But I have to say, that at times, it gets overrated.

I mean sometimes, the people are more interested in the kind of fabrics they use rather than the characters they're emulating, which isn't really a bad thing, but I just feel as though some cosplayers love the attention and publicity that comes with cosplaying, more than the art itself. And this event being a convention for comics, I just feel that Cosplay would be really out of place so I really admire the organizers for choosing not to include cosplay in the event, despite it being a surefire way to get more attendees.

2) The greatest artists are there - I'm not kidding. I mean, you would think that the "big time" artists (some, who aren't even into comics) wouldn't have time for an event that people like me (I mean the "little people" like me) would be in, but I saw a lot of famous people, walking around, checking out the booths, just like everyone else. No, there's nothing wrong with that, and I guess it's not even that big a deal, but pardon me, I'm so very easily starstruck.

3) Everyone's really into it - Of course when I say "everyone" I really mean "almost everyone, of course there will always be exceptions", so I hope you won't be too nitpicky about that, but anyway, what I mean by this is that, as opposed to the other events where they have sales people behind the tables who don't even know what they're selling (Short Anecdote: At the Mangaholix Launch last May, I asked this girl selling DVDs if they had Bleach, which is one of the most mainstream anime these days (I'm sure you'll agree), and she had absolutely no idea what I was talking about! I mean, I had to be the one to look for it in the pile of discs on her table! Now, it doesn't really bother me that I have to look for my own DVDs, I mean, there's fun in that, but I do wish the merchants would hire people who would put a little effort into knowing their products. You save a lot of time that way).

Anyway, in the Komikon, everyone knew exactly what they were selling. They knew their titles, the issue numbers, the sequels and spin-offs, where else in the market they're available, which ones are the best sellers, they knew everything! And they were all very accommodating, too.

I think this is mostly because the people selling them are the actual owners/creators of the stuff, and not just people the owners hired. And sure, there were big commercial companies there (e.g. Fully Booked, Level Up Games, Mango Comics, etc.) but the majority were independent publishers, who are still so very grounded to personally promote their art.

I mean, where else does it happen where the owner/creator of something, is literally the one you give your money to and hands you his comic book? And I'm not just talking about the indie comics, too. But I saw Carlo Vergara, the creator of Zsa Zsa Zaturnnah actually be the one to give change to the person who bought a copy of his book. You don't see that in book launches or CD signings. (Or maybe you do, but I haven't seen it yet.)

And what's even better is that it's not just Carlo Vergara who had that kind of rapport with the people who like his art, but most of the other artists there were pretty much like that, too. Manix Abrera, the artist of Kikomachine Komiks, was nice enough to draw something special at my friend's request, and he didn't rush it or anything, despite the fact that a lot of other people were in line to get his autograph.

4) The Indie Tiangge - What I loved about this is that even those from the deepest, darkest corners of the art world can register themselves and sell their art. No connections, buttkissing, nor too much money involved. Of course, there's a risk of having bad artists come out, but there's also that chance you find the next comic genius.

I actually bought two indies--one is Rex Agimat by Bien Del Rosario, and another one whose name escapes me at the moment. I would've bought more, but the more famous titles (and the pizza) had already gotten to my wallet.

5) I got to spend time with my friends - I would say that this is the best part of, well, not just the Komikon, but all of the events like it. Because it's a bit difficult to get together with friends who are all so very busy with their own lives, especially when there's no occasion. So lucky for me, when there are events like this, I don't even have to call my friends and ask them if they're going. More often than not, we go by ourselves, without making plans with other people, but leave as though we did all go there together.

I saw two of my friends I haven't seen in a really long time: Dianne and Jason, and I got to talk to them for longer than a few seconds (because the last time I saw Dianne was at the mall, I think, and there was only time to wave hello), and even met Jason's girlfriend! :)

Anyway, speaking of friends, here's where my plug comes in: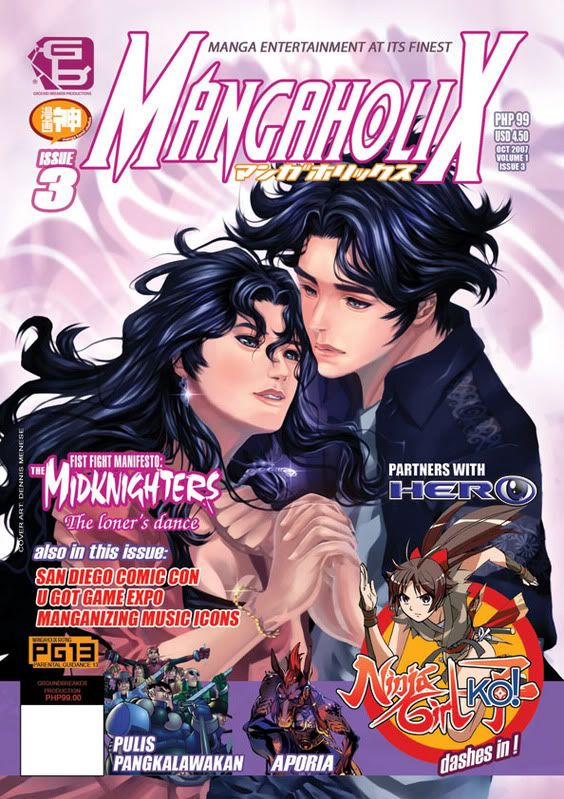 (Click on pic to enlarge)

Please buy Mangaholix! Now on its 3rd Issue!
Although technically, the 3rd issue doesn't hit the bookstores until... Er... Just see their website to find out. But Issue 1 and 2 are out!

Anyway, just a little more background on my friends--there wasn't an Art Club in high school, but the artists pretty much gravitated towards each other. Now Mangaholix's Editor-in-chief, Emman Javier, was my classmate in 2nd year high school. He had a dream of making his own comic book, so he and his friends (and classmates, I guess, because I was part of it) started a comic drawing group. 7 years later, Mangaholix was born. But in the midst of those 7 years, several things happened: I became a (very) inactive writer/layout artist of said group, saw artists (and friends) come and go (including myself), and well, you know, there was lots of drama (hey, they're artists!
). But anyway, after everything that's happened (most of which I don't completely know/understand), bottomline is, friends are friends and although it's really just Emman (Mangaholix E-I-C) who's still into the whole thing, I'm one of them sentimental people who support things even long after they're gone. And I'm supporting all my friends' endeavors anyway.

Here's another plug just to be fair: Listen to The Kagaws! They rock!

I would say that there are a lot of things different with this year's Komikon and the last one I went to 2 years go. For one thing, there were more people. And more artists. And I guess I know a lot more about the comic industry now (I actually spotted Arnold Arre all on my own! Yay! [If you read my entry about the previous Komikon, you'll know why this is an accomplishment for me.
]) And there's food!
But for the most part, things remained the same--it was still hot, noisy, very very busy, and most importantly, it was tons of fun.

My only regret is that I didn't bring my books by David Hontiveros, and was too shy to come up to him and say "I love your work!" I mean, I was caught off guard! I didn't know he was going to be there! I thought he was a writer! And, well, he is that, but of course a lot of writers are into comics, too. Oh well, perhaps I'll be more prepared next year.

By the way, I'd just like to mention that Alas, the Filipino version of Gambit, actually won the Character Making Contest! Congratulations to Moses Felizmenio (whoever you are, hehe, sorry I didn't get to meet you.)! My money was right on your character the moment I saw it.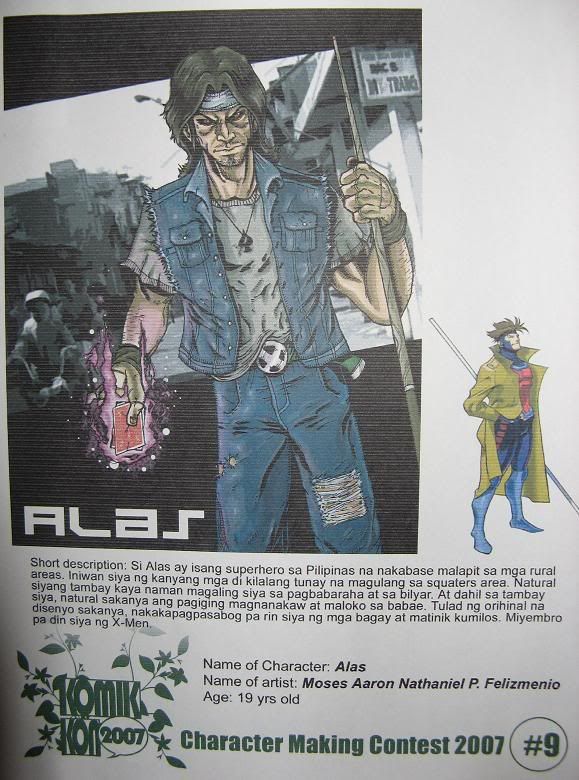 (click on the pic to enlarge)
I swear, if I had a penny for every correct prediction I made on who would win contests like these (and the Metro Manila Film Festival as well. Unfortunately, it doesn't work for sports. Of all the luck!), I'd be very very rich right now.

P.S. Special thanks to Syeri Baet of Artist's Den who made the whole event possible. She's so famous now, I'm finding it hard to believe my friends and I actually played basketball with her in the backyard of our common friend's house. Okay, I didn't play basketball with her, but my friends did, and I chatted with her during half-time.
Anyway, I'm saying thanks because she took time out from her busy schedule to sign my copy of Carpool!
Oh, and congratulations to her as well dahil ayiheeee!!!
---
Please check out my review for One More Chance. And watch the movie too!